It's December 4th again! I guess aside from my birthday, what's special about this date is the fact that this is exactly 3 month since my arrival in Germany! Yeap, I arrived on September 4th and man time really does fly so fast I can't believe it's been 3 months.
So, how does it feel being nineteen? Old. I guess I'm at that phase where I'm no longer happy about or anticipating birthdays because it just marks the day you're getting older, which sucks, since getting older makes me think of all the things I've accomplished in all these years and then realizing that I haven't really done anything, worthy. Just, you know, school. And having fun. And more school. And next year I'll be twenty, and I feel like when you're twenty time runs even faster, because before you know it, you're already thirty. And you have to make life-changing decisions about what you want to do and stuff.
Anyways, I didn't get to do much this year since it's school day and I have my weekly Praktikum. Thankfully it was another success and we managed to get the Praktikum done really quickly. I then headed to Munich right away and was already planning to celebrate my birthday in KFC, bringing my beloved sachets of Sambel Belibis with me, when my friend texted me Happy Birthday and asked me what I was doing. I was like, "I'm thinking of eating in KFC right now, let's eat together!" So yeah we then order this ginormous Christmas bucket with 4 piece of chicken, 8 chicken strips, 8 crispy strips, 2 chili cheese fries, 1 potato puree, 1 corn and 2 huge Pepsi. Man I was definitely full! And it was only 20 Euros so yeah, like I said, yang penting kenyang.
Okay then enough about my boring birthday stuff, what I actually wanted to post was my rant on Allegiant.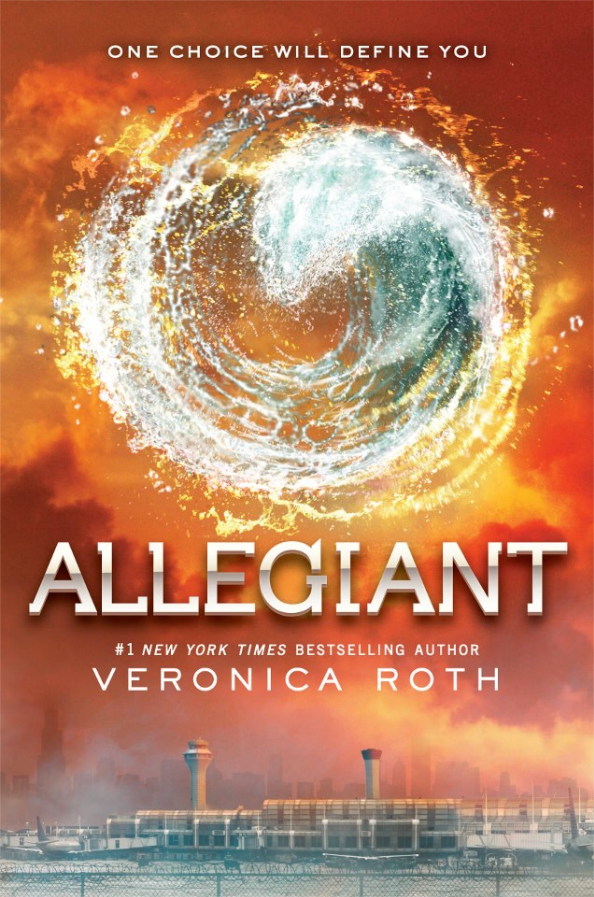 So this book was pure. trash. I am so glad I only read the ebook version because buying the actual book would be a total waste of money. I can't believe Veronica Roth wrote this because I read Divergent and Insurgent and although it doesn't particularly make me go all obsessed like The Hunger Games did, it was at least great. Here, though, it was as if she paid some rookie ghost writer to write the stuff for her while she tour around promoting Divergent movie.
What bothers me was how much it resembles Mockingjay. So the whole faction thing reminded me of the Capitol while Evelyn Johnson and her troops resembles District 13 and their female president. And how they tried to escape from one corrupt government to another group of rebels, only to realize that this other group ain't that pure and perfect either.
The whole Genetic Damage plot sounded good at the first time, and I believe it would be a great storyline if played right, but she develops this whole GD storyline SO FREAKING SLOW to the point that it became stupid and dumb.
And the characters...geez, too. much. And there are so many new characters introduced with so little background story and we're supposed to just root for them and know them in an instant.
Tris and Four. Seriously?? Okay we get it you two love each other but stop with all the kissing and how you wanted to 'be' with each other and then you decided you wanted to wait and then you kissed again and kiss and kiss.
I hate how Tris/Caleb relationship is depicted in this series. I mean, this is a book for young adults as we all know young adult / teenage years is when you start drifting away from your family and I think as a YA book you should at least teach some values other than friendship and love: family. Most of YA books I read like The Hunger Games, Harry Potter, Percy, all teaches family values and how you have to love your siblings but here it's like, "I hate him so much I can't face him because I wanna kill him every time I do". And beating up someone who can't even defend himself is NOT COOL, man. Even if you're a girl and he's a guy. So no, Tris doesn't deserve to be called a heroine.
And what could be, I think, a 100-page story is prolonged to this 350-page book about 'genetic' wars that in the end I couldn't care less about the ending, I just want it to be over with. I didn't even shed a tear when THAT BIG THING happened because it was done so carelessly and it was forgettable. It was so anticlimatic and all happened so fast. But not like, Game of Thrones' Red Wedding fast--which leaves your mouth hanging open for several minutes, trying to digest what you have just seen--, but more like, what, that's it???
Overall, I wouldn't recommend you to read / buy the book unless it's free. And I'm really disappointed on Roth's way to end this series because this piece of shit will of course be made in to a film and of course they would divide this into two parts making it probably full of Four/Tris kisses and as boring as Breaking Dawn, both parts.
Labels: Entertainment, Life in Munich, View